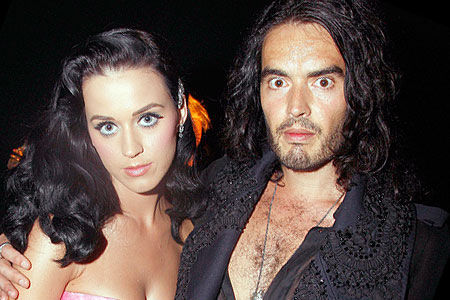 Katy Perry and Russell Brand
American pop singer and songwriter Katy Perry and
English comedian
, actor and author Russell Brand are now officially engaged after a whirlwind courtship that brought their eager fans to confusion. Russell Brand proposed to Katy Perry in
India
.
The good-girl-gone-bad musician
Katy Perry
seems to be taking interesting turns after her complete turnaround from Christian artist to Pseudo-Lesbian songwriter. From a faith-filled album self titled "Katy Hudson" in 2001, she chose the stage name Katy Perry for the release of her first single under
Capitol Records
with an uncanny title, "Ur So Gay." Her second single entitled "
I Kissed a Girl
", which has had Christians judging the lyrics as filth-filled, was responsible for her claim to fame.
Interestingly, she has had an attraction to the
un-Christian
, to include self-declared drug and sex addict,
Russell Brand
. The English comedian is infamous for his promiscuity and drug abuse. Currently however, he seems to have declared an end to such abusive and filthy behavior and has only alcohol abuse to deal with.
Wedding plans are on the way even with a groom-to-be as unpredictable as Russell Brand. It is no easy task for Katy Perry but she has already written down a few ideas for the BIG day. In a recent interview with
People Magazine
, Katy Perry asserted that the wedding will be a small and private affair. However, the couple plans to throw a big reception for those who will not be in the ceremony.
Katy Perry has chosen
John Galliano
to design her wedding gown. She was recently labeled as the Hottest of the Hot in Maxim's Hot 100 for the year 2010.
Katy Perry
also confirmed that the wedding will not be held in her hometown,
Santa Barbara
. When asked what she liked about Russell Brand, Katy Perry readily blurted, "His vocabulary!" Clearly, a bad boy with an
English vocabulary
gets all the hot babes.